08.10.21 | News, Newsletter
Record-setting NBA Draft for Culligan City of Palms Classic alum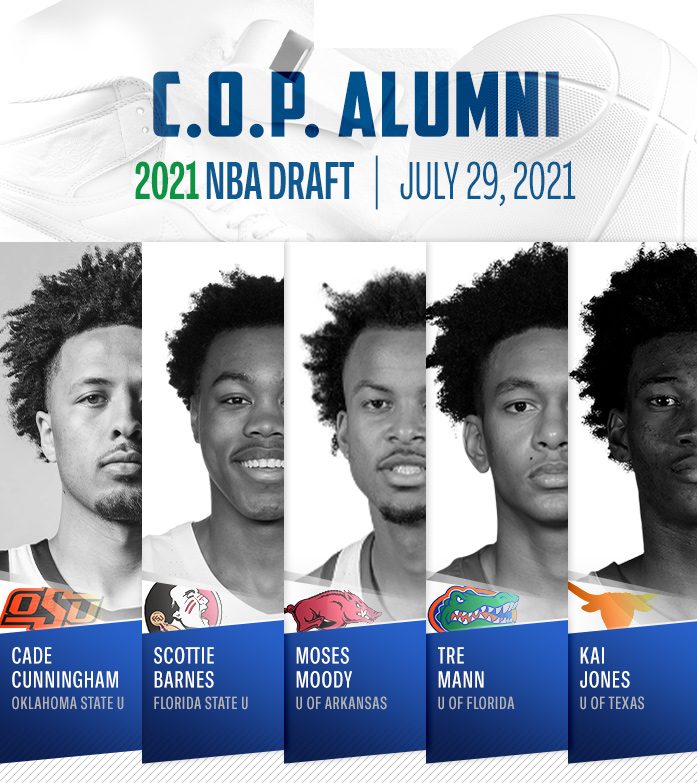 To many involved with the 2021 NBA Draft, it was 60 picks that represent future greatness for their respective teams. For the team at Classic Basketball, Inc., July 29 was a record-setting night as 18 Culligan City of Palms Classic alum were chosen to play at the next level, including No. 1 pick Cade Cunningham who appeared here in 2019 for Montverde Academy. Cunningham will suit up for the Detroit Pistons.
Another lottery pick from the 2019 COP was Scottie Barnes. Barnes, who went No. 4 to the Toronto Raptors, was Cunningham's teammate on the national champion and COP champion Montverde Academy squad. Barnes was also a two-time COP MVP, having played in the tournament three times during his high school career.
Other notable NBA Draft picks that made a name for themselves on the Suncoast Credit Union Arena court include:
No. 48 Sharife Cooper, who led McEachern High School to the COP title back in 2018; No. 52 Luka Garza, the NCAA National Player of the Year for 2020-21, who played here in 2016 with Maret School; and No. 56 Scottie Lewis, who took home the Edison National Bank Slam Dunk championship back in 2018 when he was here with the Ranney School.
Overall, a whopping 28% of this year's NBA Draft picks have played in the Culligan City of Palms Classic at least once, with eight going in the first round this year, nine in the second round and 108 in total getting drafted since COP began 48 years ago. Check out the full list of Culligan City of Palms Classic alumni who were selected in this year's NBA Draft:
1. Detroit Pistons – Cade Cunningham (2019 Montverde Academy)
4. Toronto Raptors – Scottie Barnes (2016 & 2017 with University School and 2019 with Montverde Academy)
14. Golden State Warriors – Moses Moody (2019 Montverde Academy)
18. Oklahoma City Thunder – Tre Mann (2018 The Villages)
19. New York Knicks – Kai Jones (2017 Orlando Christian Prep)
27. New Jersey Nets – Cameron Thomas (2018 Oak Hill)
28. Philadelphia 76ers – Jaden Springer (2019 IMG Academy)
29. Phoenix Suns – Day'Ron Sharpe (2019 Montverde Academy)
31. Milwaukee Bucks – Isaiah Todd (2016 John Marshall High School)
32. New York Knicks – Jeremiah Robinson-Earl (2018 IMG Academy)
40. New Orleans Pelicans- Jared Butler (2014 Riverside Academy)
48. Atlanta Hawks – Sharife Cooper (2018 McEachern)
52. Detroit Pistons – Luka Garza (2016 Maret School)
53. Philadelphia 76ers – Charles Bassey (2016 St. Anthony Catholic School)
54. Indiana Pacers – Sandro Mamukelashvili (2016 Montverde Academy)
55. Oklahoma City Thunder- Aaron Wiggins (2017 Wesleyan Christian Academy)
56. Charlotte Hornets – Scottie Lewis (2018 Ranney School)
57. Brooklyn Nets – RaiQuan Gray (2016 Fort Lauderdale Dillard)